Major new aviation hangar precinct at Bankstown Airport
Aeria Management Group has announced a Major Development Plan (MDP) for a new aviation precinct at Bankstown Airport, to meet the current and future needs of Australia's aviation industry.
The proposed $50 million development* within the airport aviation zone features up to 9 new hangars with flexible offices and VIP aircraft access, for critical operations such as emergency services, aircraft charter, maintenance and flight training.
We will release the MDP early in 2024 for review and feedback, as part of a process of extensive engagement and consultation.
LOCATION
The planned precinct is located in the north-east of the Bankstown Airport aviation zone, with a proposed link via Avro Street.
The site has not been previously developed apart from small portion of pavement handstand. Part of the site is currently being used for aircraft parking and the south-eastern end of the site will be retained for this purpose.
The proposed development is a Permitted Land Use within the Bankstown Airport aviation zone and consistent with the Bankstown Airport Master Plan.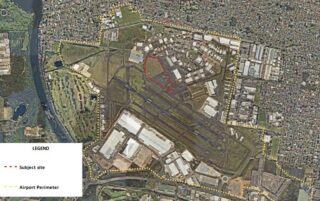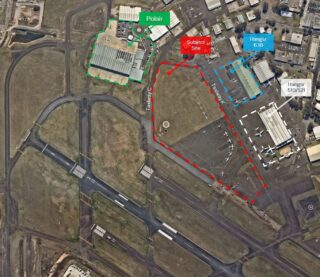 FEATURES AND BENEFITS
The project will consist of up to nine new hangars with aircraft access provided by vertical lifting fabric doors. Office accommodation will be included with direct access to the hangarage.
The project will also feature car parking and VIP aircraft access to the hangar, as well as premium features such as a customer lounge.
The project design will be flexible and adaptable to suit multiple aviation operations and services, such as emergency services, private aircraft charters or aircraft maintenance.

Preliminary draft drawings and digital illustrations only
This is the third stage of major enhancements to the aviation precinct at Bankstown Airport, following the delivery of new facilities for NSW Police Aviation Command (PolAir) and NSW Air Ambulance, including the Toll ACE Training Centre.
CONSULTATION
MDPs are proposals for major developments at airport precincts that are submitted to and approved by the Commonwealth Government in accordance with the Commonwealth Airports Act 1996.
The MDP process for our proposed new aviation precinct will involve extensive engagement and consultation with our customers, the community and other stakeholders, including governments, airport regulators and relevant public authorities. We will also provide regular updates to members of our Bankstown Airport Community Aviation Consultation Group.
As part of this consultation process, we intend to place the Preliminary Draft MDP on public exhibition in early 2024 for feedback and submissions.
More information on airport planning and regulation, including MDPs, is available from the Department of Infrastructure, Transport, Regional Development, Communications and the Arts by clicking here.
UPDATES AND INFORMATION
We will provide updates about the progress of the proposed MDP on this webpage and via e-newsletters with our customers and other stakeholders.
To receive news about our airport precincts and developments, please click on the subscribe option at the bottom of our website or complete the contact form on our website and click on the option to receive newsletter updates.
*Preliminary figure only. MDP subject to approvals