Camden car park and stormwater upgrades
Aeria Management Group (AMG) is undertaking a major upgrade to the car park and stormwater infrastructure at Camden Airport, as well as enhancements to some airside aprons and taxiways, to improve safety, accessibility and amenity.
Importantly, the works will improve the resilience of airport operations, infrastructure and facilities against flooding events, such as those experienced in 2022.
UPGRADE WORKS
The works include:
• Upgrade of the major stormwater system to improve water drainage away from operating areas and to reduce the impact of flooding
• Reconstruction and resurfacing of the airport car park
• Upgrade of the car park access road
• Widening of taxiway to improve safety for turning aircraft
STAGING OF WORKS
The upgrade works will start in early October and are expected to run through to February/March 2024. The works will be staged to minimise disruptions to airport operations, in line with the map below.
The car park works will be separated into two areas – south and north – to ensure parking is available at all times for airport users.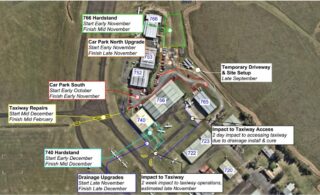 We appreciate the support of airport users as we work together to enhance airport infrastructure.
PROJECT UPDATES
Further information and updates are available via the links below. For any queries, please contact us via info@aeria.co.
·      12 September 2023: Project announcement and invitation to information session. View here.
·      12 September 2023: Information for Aerodrome Road residents. View here.