Exciting upgrades to Tower Road
Tower Road/Link Road is a major thoroughfare along the western edge of Bankstown Airport. We are upgrading the road from Murray Jones Drive to Drover Road to better connect businesses, airport users, and the community.
The upgrade will improve the condition, alignment, amenity, and safety of the road, including the delivery of a shared footpath and bicycle path, additional lighting and security cameras, new parking bays, and enhanced drainage systems.
The upgrade is part of our vision to create a thriving, diverse destination that brings together aviation users, local industry, and the community. These works will ensure the ongoing safety, reliability, and condition of the road and reduce the need for major maintenance in the long term.
PROJECT BENEFITS
Better Connectivity: The upgrade will improve the condition and alignment of Tower Road/Link Road to better connect all road users and improve the overall amenity of the area.
Safe Pedestrian and Cyclist Access: Pedestrians and cyclists will benefit from new dedicated footpaths that will be built alongside Tower Road/Link Road. New raised crossings near car parks will also help people move with ease.
More Parking Facilities: The upgrade will feature new parking bays to enhance accessibility and amenity.
Enhanced Drainage: The installation of improved drainage systems will reduce the impacts of local flooding events.
Enhanced Utilities: Improved utility services and the installation of new lighting and security cameras will enhance safety and amenity.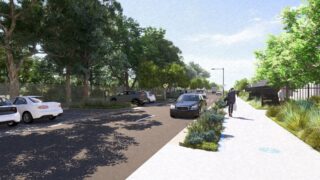 STAGING OF WORKS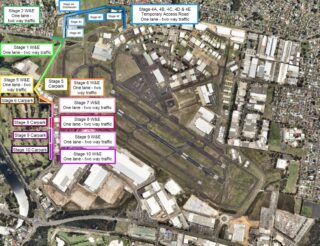 The Tower Road/Link Road upgrade will be conducted across 10 stages to minimise the impact on road users, starting in July 2023.
Two-way access to the thoroughfare will be maintained at all times, with traffic control measures in place to manage directional traffic flows.
While we are working to minimise any inconvenience, please allow for extra travel time and use alternative routes where possible.
We thank you for your patience.
Further information and updates are available via the links below. For any queries, please contact TowerProject@aeria.co or 02 8709 9449
PROJECT UPDATES 
·      7 June 2023: Project announcement, including planned staging. View here.
·      26 July 2023: Works commence. View here.