Airside Pavements Upgrade
Aeria Management Group is making a major investment in our aviation infrastructure by upgrading airside pavements at Bankstown Airport. This significant investment in General Aviation will enhance the safety, amenity and conditions of the airport precinct for our customers and other airport users.
PROJECT BENEFITS
Rehabilitated pavements
Improved operability
New and updated line-marking
Improved pavement grading
UPGRADE DETAILS

The Airside Pavements upgrade involves the reconstruction of the majority of Taxiway Alpha and re-sheeting works on Taxiway Charlie, Hotel, Lima, Mike, Mike 1 and Papa.
The works on Taxiway Alpha will feature a reconstruction of flexible asphalt pavement, involving replacement of the subgrade and base course, new asphalt, reinstatement of airfield ground lighting and reinstatement of line marking.
Taxiway Charlie, Hotel, Lima, Mike, Mike 1 and Papa will have existing asphalt milled and overlayed with new asphalt and line marking.
STAGING OF WORKS
The upgrade will be staged to minimise disruption to airfield operations and ensure the safety of airside users and construction workers.
Construction will occur across eight stages from August 2023 to April 2024, primarily between 7am and 5pm. Two stages are planned for night works (estimated at a cumulative duration of four weeks) to minimise the disruption to daytime airfield operations.
The airfield will remain accessible throughout the works and alternative routes will be provided as required.
Indicative works staging is per the below: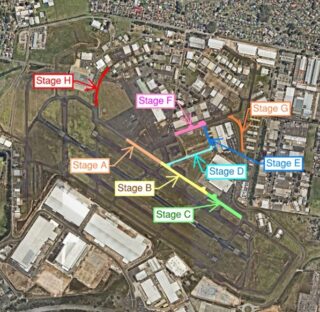 PROJECT UPDATES

Aeria Management Group will host weekly online meetings from August 2023 for customers and other airport users, to provide updates on the works and to discuss any questions or concerns.
Further information and updates are available via the links below. For any queries, please contact us via pavementproject@aeria.co or 02 8709 9449.
26 September 2023: Commencement of Stage E works. View here
3 August 2023: Construction start notice. View here.
19 July 2023: Project announcement. View here.