Major new mixed-use precinct to benefit business and community
Aeria Management Group has announced a Major Development Plan (MDP) for a new mixed-use precinct to provide essential services to businesses, families and the community.
The proposed $80 million* development in the north of Aeria precinct, home of Bankstown Airport, is anticipated to feature retail and community facilities, including a new childcare centre and smaller warehouse units, to support the growing population and business base of South West Sydney.
We will release the MDP early in 2024 for review and feedback, as part of a process of extensive engagement and consultation.
LOCATION
The planned three-hectare site is located in the north of Aeria precinct, on a vacant site adjoining the Supa IGA on Birdwood Road.
The proposed retail and community facilities in the north of the site will face Birdwood Road. The proposed warehouse units in the south of the site will have access to Link Road, which runs alongside Bankstown Airport.
The Bankstown Airport Master Plan 2019 identifies the site as within the Neighbourhood Precinct of the Airport Business Zone.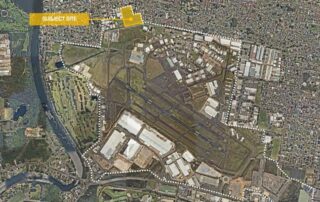 FEATURES AND BENEFITS
The proposed mixed-use precinct will cater for the growing needs of residents and businesses in South West Sydney, potentially including shops, office suites and a childcare centre.

Digital illustrations only
Office suites will suit multiple businesses or services, such as medical uses or health consulting rooms (radiology, pathology, physiotherapy, etc), local professional services (accountants, lawyers, financial planners, real estate agents/brokers, etc) and other small businesses.
The warehouse units will potentially suit trade workshops, aviation-related uses or other consumer facing businesses, such as indoor recreation facilities (indoor soccer, climbing centre, etc).

Digital illustration only
This project is the second stage of our Northern Development Lands enhancements, following the delivery of the 3.8 hectare business park at 430 Marion Street.
The proposed MDP highlights our long-term commitment to sustainable growth across our precinct for business, the community and economy.
CONSULTATION
MDPs are proposals for major developments at airport precincts that are submitted to and approved by the Commonwealth Government in accordance with the Commonwealth Airports Act 1996.
The MDP process for our proposed new mixed-use precinct will involve extensive engagement and consultation with our customers, the community and other stakeholders, including government and relevant public authorities. We will also provide regular updates to members of our Bankstown Airport Community Aviation Consultation Group.
As part of this consultation process, we intend to place the Preliminary Draft MDP on public exhibition in early 2024 for feedback and submissions.
More information on airport planning and regulation, including MDPs, is available from the Department of Infrastructure, Transport, Regional Development, Communications and the Arts by clicking here.
UPDATES AND INFORMATION
We will provide updates on the progress of the proposed MDP on this webpage and via e-newsletters to our customers and other stakeholders, including community members.
To receive news about our airport precincts and developments, please click on the subscribe option at the bottom of our website or complete the contact form on our website and click on the option to receive newsletter updates.
*Preliminary figure only. MDP subject to approvals